Suffolk Vehicle Enthusiasts Club
What's in this Months Newsletter?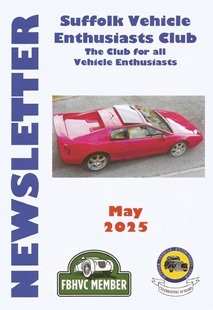 Cover 1934 Ford 40

Annual General Meeting -- Agenda

The Car Accessory Market of the 30's and 40's --The Mystery of the G.M.S spark plug - by Roger Brown

The Ubiquitous Land Rover -- a history by Monte Dexter-Banks

Event Updates from the Co-ordinator.
plus Secretary's Scribble.
Also
SVEC and CVCVC video of Cars at ActonCrown