Suffolk Vehicle Enthusiasts Club
What's in this Months Newsletter?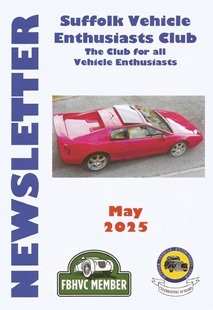 Cover 1937 Triumph Vitesse

E10 Petrol Fuel for Thought part 1 (The Problem) continued from last month by Chris Norman

Morrisons Coop Electric Coal Lorry by Leo Brome

Federation of British Historical Vehicles Clubs Update by Ian Leggett

Event Updates from the Co-ordinator.
plus Secretary's Scribble.
Also
SVEC and CVCVC video of Cars at ActonCrown